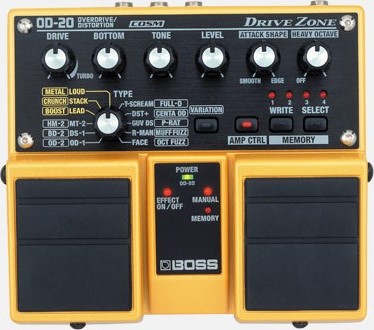 All Your Favorite Overdrive/Distortion Sounds
Thanks to COSM technology, the OD-20 can faithfully recreate the sound of the most popular overdrive/distortion pedals in history. You get all the BOSS classics like the OD-1, DS-1 and MT-2, plus boutique pedals and many other classics—22 in all! There's also six new overdrive and distortion sounds ranging from mellow crunch to bottom-heavy distortion and screaming metal.
New "Attack Shape" and "Heavy Octave" Knobs
Using Attack Shape, guitarists can adjust the overdrive model's response to match their playing. So if you're really digging into the strings, the OD-20 will be right there with you. There's also a new Heavy Octave control which produces low octave sounds for any notes played below the fourth fret of the fourth string—great for simulating thick 7-string type sounds heard in modern rock music.